Hey there! Hope you're all enjoying a relaxing Sunday morning. I'm sitting in my sunroom enjoying the sounds of the rain and occasional deep roll of thunder. It's a great day to stay inside. I'm so glad we have a group of you coming today to stitch.
We're just back from the Quilter's Gathering in Berlin. What a fantastic time. Our Shepherd's Bush bag kits were the star of the show. There's nothing quite like seeing a group of people in the hotel lobby happily stitching away on their new purchases.
As wonderful as that was, packing up was not. I totally bought too much for the show. So I'm giving you all a chance to benefit from my mistake. We have 6 projects all kitted up that will be on sale. Each includes the patern, fabric and threads all for 30% off. Several have aida and several have linen and there's even one wool applique project. Snippets of the of the projects are below. For full details on each, click on the button to go to our website.
Click here to go to the kit sale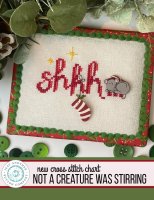 In other news, we continue to add classes and other events to our calendar. Our easel finishing classes are full but we have spots in our second quillie class. You can make a pumpkin or a Christmas Tree in that one. And since our first Beach Please finishing class went so well, we'll probably do another. Email or call to let us know if you're interested. For a full list of events check out our CLASS page or CALENDAR.
Don't forget Needlework Expo is the end of this week. Get us your list soon. Silk September starts right after that. And then there's the Tour. It's going to be one fabulous Fall!

Happy stitching,